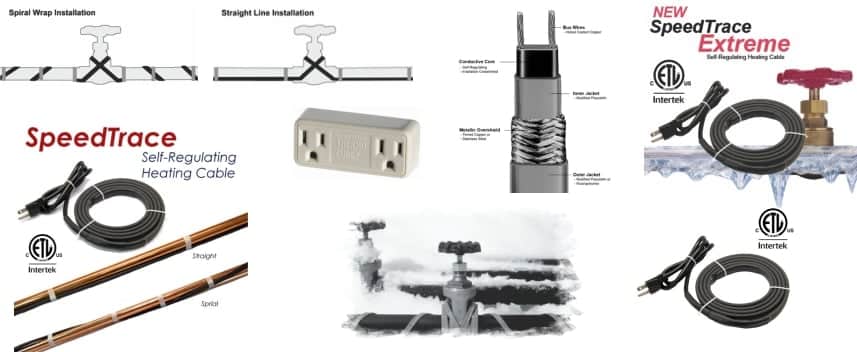 Heating Cable
Heating cable is also referred to as heat trace cable amongst the industry. It is used for a wide range of applications including pipe tracing, freeze protection, viscosity control, temperature process maintenance, roof and gutter, and much more.
Our heat trace cable line includes cables suitable for process maintenance, pipe and vessel freeze protection and roof and gutter de-icing applications. With this wide variety of heat trace cables available we can design systems for the most demanding and complex applications while helping reduce costs, increase sustainability, and decrease risk.
The most efficient way to provide freeze protection and temperature maintenance of process fluids is through a properly designed heat maintenance/freeze protection system. Using self-regulating heat trace cable and qualified accessories are designed to provide specified amounts of heat at any point along their length. The bus wires, jackets and metallic braids can be configured for both ordinary (non-classified) and hazardous (classified) locations, including areas where exposure to corrosive or organic materials is possible.
The cycle of snow and ice melting and refreezing can form ice dams that prevent water from draining during a refreeze cycle. The built-up ice, snow and water can lead to serious residential rooftop damage. Our UL approved de-icing residential roof and gutter heating system employs self-regulating cable. The electric heat trace cable will provide a continuous drain path for melting ice and snow to flow (through the gutter and into the downspout). As with all of our residential cables they are self-regulating, and the heating cable uses less power as the roof and gutters dry and warm up.
Product Highlights
Self-regulating or constant-wattage heating cable
Ideal for long runs on pipes and vessels
Can be cut-to-length at job site
Temperatures up to 500F (260C)
Meets NEC 427-23 and IEEE Std 515-2004
Applications
Freeze protection
Viscosity control
Low to high temperature process maintenance
Roof and gutter
Ordinary locations
Hazardous locations
Which Heating Cable is Right for You?
Self-Regulating / Self-Limiting: Automatically adjusts heat output based on surface temperature. Ideal for freeze protection and low temperature process maintenance.
Constant-Wattage: Provides precise and constant temperatures up to 500F (260C). Ideal for a wide range of applications.