Heavy-Duty Comfort Air Heaters
Browse these categories under "Heavy-Duty Comfort Air Heaters"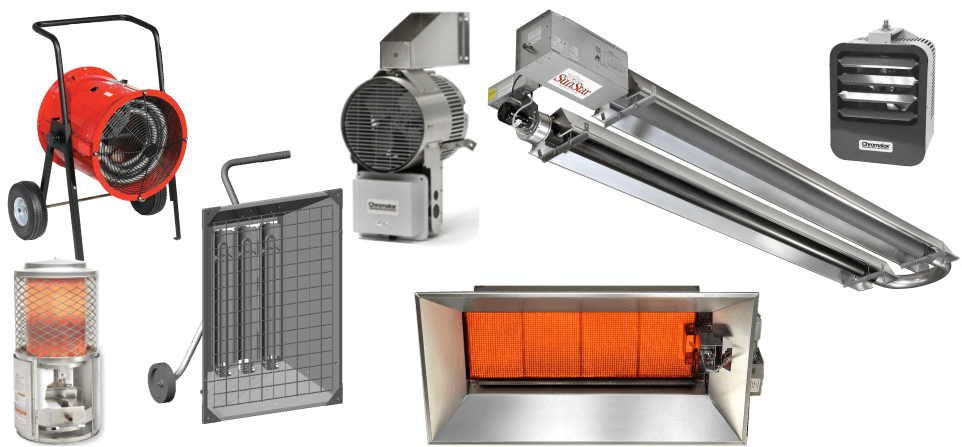 When it comes to versatile and durable comfort air heaters, look no further than Gordo Sales, Inc.
We carry a wide selection of specialized air heaters for heavy-duty residential, commercial and industrial applications. Select from several heater styles, including portable, freestanding and ceiling or wall-mounted systems that deliver the ideal air quality.
We only supply heaters that are easy to install and configure, so your operations won't be interrupted.
Comfort Gas Radiant
Unlike air heaters, infrared heaters transfer radiant heat energy directly to people, objects and surfaces. Heat is then retained and radiated throughout the room from the ground up so that the entire space receives relatively uniform heat. They are an energy-efficient and cost-effective solution for spot, area or building-wide heating.
Forced Air Heating Fans (Mounted & Portable)
If your facility has an electric air heater, having a portable or mounted fan lets your system move warm air faster over long distances. This will make heating larger areas much faster and more economical.
Radiant Mounted
Mounted gas radiant heaters are extremely flexible and energy-efficient. They allow for high-bay, high-intensity spot heating, as well as low-intensity heating for loading docks, assembly lines, airplane hangars, store entrances and outdoor patios in restaurants.
Explosion-Proof Blower Heater
If you want to put a heater in a hazardous location, you must use an explosion-proof blower heater. They are useful for primary or supplementary heating to protect your equipment and materials from freezing and improve your facility's indoor air quality.
To make sure your portable or mounted comfort air heater runs smoothly, we offer OEM accessories as well.
Get in touch with us today to find out which heater system is right for your garage, commercial space or industrial facility.